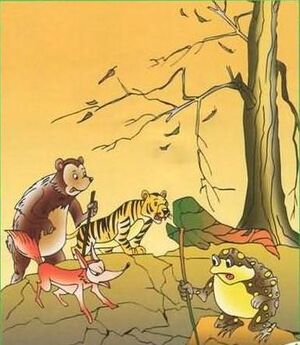 The toad, in Vietnamese folklore, is also known as the "Uncle of Heaven." The toad is recognized for its bravery and courage in making it to Heaven to meet with the Jade Emperor in order to appeal to the emperor to bring rain to the drought-stricken lands. The Jade Emperor told the toad to croak whenever the lands needed rain, so that the emperor would send the Rain God and Wind God to shower the land.
The tale also goes by the name "Cóc Kiện Trời."
Additional Reading

Edit
Toad is the Uncle of Heaven , by Nguyen, Julie. Diacritics. 2012 Jan 6.
Ad blocker interference detected!
Wikia is a free-to-use site that makes money from advertising. We have a modified experience for viewers using ad blockers

Wikia is not accessible if you've made further modifications. Remove the custom ad blocker rule(s) and the page will load as expected.